Diverse Cohort
MSc in Sustainable Energy Development
Where bold thinking energizes change.
The diversity of our students' education and professional experience further enhances the interdisciplinary nature of the SEDV program. Students should expect to progress through this cohort-based program alongside others from varied disciplines such as engineering, business, political science, law, and a mix of science based degrees. In addition to their academic backgrounds, these future SEDV graduates join us from diverse roles with the energy sector and others to complement the multi-discipline and function learning environment we strive to create.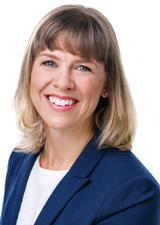 Alyssa Bruce, MSc (SEDV)'20
I enrolled in the MSc in Sustainable Energy Development program after working for 15 years in land asset management in the oil and gas industry. A desire to take action to reduce the cumulative environmental effects of energy development motivated my pursuit of the graduate degree. The SEDV program deepened my understanding of the complexities presented by the energy transition and the importance of incorporating Indigenous Peoples perspectives and contributions as well as considering social, environmental, and economic impacts when developing sustainable solutions.
The knowledge I gained through the interdisciplinary courses enabled me to leverage my oil and gas experience and work in the area of my capstone project, supporting the pilot deployment of two projects to repurpose inactive wellsites for solar energy generation and the development of a framework for expansion.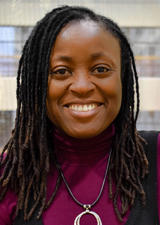 Tinuke Chineme, MSc (SEDV)'17
After more than 15 years in technical roles in the oil and gas sector, the SEDV program provided me with an opportunity to gain insight into an emerging sector that was foreign to me. The program taught me the intricacies of starting and running a business while honing my technical capabilities. The Research Project allowed me to work with an NGO on a renewable energy project that economically empowered local women in Burkina Faso, Africa.
Through SEDV program and the knowledge I have gained, it facilitated the startup of my own business with the long-term goal of transforming donor-recipient relationships in Africa.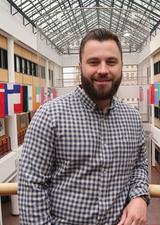 Nick Kendrick, MSc (SEDV)'19
After a 5-year career in oil and gas I was looking to prepare my career for the future. I didn't know exactly what I wanted to do, but knew sustainability and education were imperative to a career in renewables or traditional oil and gas. SEDV provided me an opportunity to explore both, introducing me to a diverse group of industry and academic professionals, expanding my knowledge and encouraged me to understand different perspectives.
As someone who was inspired to pivot my career, my capstone focused on upskilling oil and gas workers that wanted to work in renewables. This provided a great opportunity to volunteer and interact with industry and non-profits, while helping people who were in the same situation as me. After graduation I was able to step into the energy efficiency and clean tech industry at a time where the industry will only continue to grow.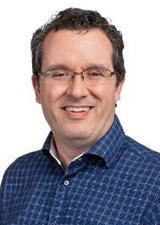 Doug Koroluk, MSc (SEDV)'17
I enrolled in the MSc in Sustainable Energy Development program after working for a number of years in the upstream oil and gas industry. I wanted to pivot my career to a role where I could try to improve the development of energy that better addresses diverse stakeholder concerns. I was also looking for a way to enhance my skills and to stand out among professionals in the energy space.
The capstone research project gave me an opportunity to network with professionals in industry, in government, and in the university. The project was a great way to leverage my SEDV experience into a research topic where I had a lot of interest. I am utilizing my new skills from the program and it has helped me to see the broader concerns of energy development.